AT64 Portable Single-Channel SCR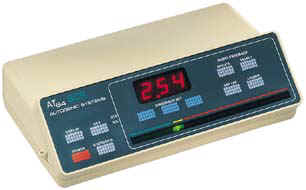 The Advanced Technology AT64 is an easy-to-use, portable, single-channel SCR instrument with built-in data collection capabilities. Skin conductance response (and its reciprocal GSR) has long been recognized as a valid indicator of autonomic arousal. Now, the AT64 provides the MOST USEFUL SCR information ever: quantified data on an individual's arousal level.
Clinical Applications
The AT64 SCR provides QUANTIFIED DATA for:
Skin Conductance Activity, Level and Response (SCA, SCL & SCR).
Testing the validity of self-reports. By displaying an individual's SCR response to pertinent topics or visual stimuli, the AT64 SCR provides the hard data for OBJECTIVE VERIFICATION.
Early recognition of affective disorders through weekly monitoring of patient baselines.
Training appropriate emotional reactions and behavioral responses.
Treating stress related disorders with patients who do not exhibit elevated EMG readings or low peripheral skin temperature in response to stress.
General relaxation training.
Superior Feedback
Audio: The AT64 SCR's built-in audio synthesizer provides state-of-the-art audio feedback, clearly conveying information on the SIZE AND DURATION of the SCR response. Audio feedback selections include:
1. Melodic piano tone,
2. Continuous tone and
3. Integrated clicks.
Visual: Visual feedback is provided via a numerical display and/or a lightbar. The AT64's SCR Display button lets you select whether one display is on, by itself, or both displays are on simultaneously.
Quality Information for Quality Care
Like other Advanced Technology series instruments, the AT64 has built-in data collection and analysis capabilities.
Data on the size and duration of each SCR response (indicating the sensitivity of the topic) can be provided by the AT64 immediately following the response.
SUMMARY DATA (the mean, max., min., and SD) of all SCR responses can be displayed by the AT64 at the end of the session.
AT64 SINGLE CHANNEL SCR SPECIFICATIONS:
The AT53 EMG is designed to meet/exceed the electrical and safety standards specified by UL 2601, IEC 601 and CSA 871. The default parameters are bolded.

Visual Feedback

Display Options
Numerical LED + Lightbar, Lightbar only, Numerical LED only, A/B Ratio
Numerical LED Displays
Three red digits, 0.5" high
Numerical LED Range
0.01 - 99.9 microhms, auto-ranging
Measurement Options
SCA, SCR or SCL
TPI (Time Period Integration) Settings
0.5, 1.0, 2.0, 4.0, 6.0, 10.0, 60.0 seconds
Lightbar
Three color, 15 segments (4 green, 1 yellow, 10 red)

Audio Feedback

Tones
Piano, Continuous, Integrated clicks
Volume
Levels 0 to 7, 4 is the default
Audio Provided
Continuously, Above or Below Threshold

Statistics -- Per Channel

Statistics Acquired (Summary)
Min, Max, Mean, SD of the percentage increase from baseline and half-recovery period of each response
Statistics Acquired (Intra-Stats)
Percentage of increase (from baseline) and the half-recovery period (in seconds) of each SCR response
Sampling Capacity
64,000 data points per session

Electrical

Resolution
0.04 microohm
Input Noise
0.3 microvolts
Sampling Rate
8 Hz (every 0.125 seconds)
Leakage Current
In compliance with UL 2601 specifications
Audio Output
3.5 mm stereo earphone jack, (mono output)
Analog Output
Linear 0-3 volt DC signal, compatible with most computer interfaces
Line Power Input
120 volt, 60 HZ, 220 volt, 50/60 Hz
Battery Rating
10 to 12 hours continuous use
Battery Recharge
16 hours maximum with built-in overcharge protection
Dimensions & Weight
2.5"H x 7.7"W x 5.3"D; 1 pound 5 ounces
STANDARD ACCESSORIES (Included):
| | |
| --- | --- |
| Qty. | Item |
| (1) | UL listed isolation adapter |
| (4) | Installed Ni-Cad rechargeable batteries |
| (2) | 6-foot SCR sensor cable |
| (1) | Carrying case |
| (1) | Owners manual |
Warranty: 1 year parts and labor on instrument; 90 days on accessories, 3 year extended warranty available.

Indications: SCR feedback is indicated where general relaxation training is desired.

Contraindications: There are no known contraindications with the AT64 SCR for the purpose of general relaxation training.

NOTE: No warranty or claim is made regarding the efficacy of products in clinical use, but only with regard to electronic specifications, which specifications are subject to change without notice.

NOTE: Federal Law (USA) restricts this device to sale by or on the order of a physician or other health practitioner licensed by the state. Prices and specifications subject to change without notice.
$1329 (if you are in a country requiring 220 volt add $20.)
shipping in the US $25. Outside the US, contact us with your full address information so we can give you an exact shipping price.