Neurofeedback Training Systems, Courses, Seminars, DVDs
Start your Neurofeedback Career right with the Neurofeedback Foundations Video Home Training Course, learning from some of the world's leading trainers.
The Winter Brain Meeting is the world's largest conference on EEG Biofeedback/ Neurofeedback/ Neurotherapy
We almost always have reconditioned and demo systems at reduced prices.

And our new system prices are the best. So call after you've shopped for the best price.

And we'll make you very happy.
---
We have a really good handle on all the different EEG systems available. Here's a very brief sketch of some of the systems available. Call to discuss details, so we can help you figure out which systems will best meet your current and future needs.
---
BrainMaster EEG Dual Channel Windows System


A unique system designed by a group of people all over the world, via llistserve group. A dual channel digital EEG running in Windows3.1 or 95. Free DLL programming library. A fascinating evolutionary path you can participate in. $1100 some demo units available
---
---
Wave Rider EEG/EMG/HR/GSR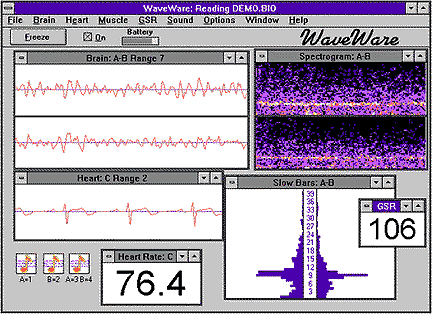 Wave Rider 2(*) and 4(**) channel Win 95 or Win3.2 Multimedia system with a third GSR channel.
both units are available in either Mac or Windows versions.
Powerful flexibility for a full range of EEG protocols
Great MIDI functions for making music with your mind.
Click on the Waverider header for more info and pricing.
---
Autogenic A-620
protocols for Beta/theta training designed by Joel Lubar.
Alpha/theta protocols also included.
This is one of our clinician's dream machines, as specked out by Dr. Lubar.
$3450
The Clinician Display allows you a wide range of options for individualizing reward settings for each patient.
The Power Spectrum Display enables you to review relative amplitudes and determine which band passes are rewarded and inhibited.
The A-620 has a very easy learning curve and is siimple to use.
Sessions are easily set-up and session data is easy to interpret.
Reward criteria are easily adjusted.
The A-620 has Over 500 attention-getting, real-time patient feedback displays, including The Puzzler (with 10 subject categories and five levels of difficulty ideal for exercising concentration skills), the Maze, the Light Bulb, the Bar Graph, the Multi-Color Wheel, and the Waveform Display.
A-620 System Requirements:
386SX and math coprocessor, 1M available RAM,
HD with 6MB available, VGA graphics,
8-bit half-size expansion slot, DOS 5.0 or higher.

Price $3395 +$45 shipping/ins.
---
---
High End EEG Systems
Start your Neurofeedback Career right with the Neurofeedback Foundations Video Home Training Course, learning from some of the world's leading trainers.
Biograph Procomp Infiinit Plus:
Click here for a whole lot more about Procomp Biograph
This system has become our hottest as it has matured into a powerful, stable multimedia program without anyequal in the industry. Up to eight channels of feedback with 2 of EEG. Extraordinary Windows multimedia environment with great sound & Graphics Pick and choose from EEG, EMG, GSR, Respiration, thermal, pulse, and more. Serial input with fiber optic cable for easy notebook capability. Manufactured by Thought Technology, the largest, strongest biofeedback company in the world. Buy from us and get 100% of the support they provide plus our extras. You win even bigger getting your Thought Tech products from FUTUREHEALTH.
And you support our other efforts too.
---
---
Flexcomp
integrated biofeedback system with 16 channel capacity now with future 64 channel capability.
Uses DSP for sophisticated real-time analysis, optical fiber cable, active sensor EMG, thermal, SCL, HR , resp, ECG also available simultaneously.
Unique featues allow multi EEG and other channels simultaneously which fit research needs like no other system.

Board required in computer. Usually $8000 on up
---
Biocomp
Powerful four or eight channel system programmable to function in different modalities-- EEG or other.
Capable of running multiple patients simultaneously.
NEW Thinking cap Brain blood-flow feedback.

Prices start at $2995 for two channel and $4995 for four channel. Add $1000 for Thinking Cap
---
Autogen A-620 click here for more detailed info
The A620 EEG is extremely easy to operate, even for the biofeedback or computer novice. Easy session set-up. Easy to interpret session data. Easily adjusted reward criteria. SOFTWARE THAT WORKS. And, unlike other EEG systems, you don't need to know computer programming to use the A620.
Using Dr. Joel F. Lubar's time tested protocol, you can be sure the A620 incorporates meaningful features not even contemplated in competitive instruments. The A620 is the most well thought-out and most thoroughly field-tested Neurofeedback System available.
$3399 basic system $399 impedance meter for testing electrodes
$199 optional add on Alpha theta software.
TOVA Assessment SW:
Not an EEG, but a commonly used ADD and closed head injury assessment test of attention and distractability. $399 visual only, $599 audio and visual
---
---
---