(AG-P-049) Permalink CD, DVD, MP3:


SYNCHRONY: HOW THE BRAIN CODES INFORMATION


View More By Les Fehmi
| | |
| --- | --- |
| Futurehealth Plenary Talk by Les Fehmi Early studies on information processing in the visual system have shown that visual information is transmitted as a spatial, not a temporal, code. Information travels toward the cortex as waves of synchronous action potentials. The role of synchrony in transmission of various kinds of information will be described. The role of synchrony in coding information at the level of the nerve, and at higher levels of neural organization, is crucial for controlling attention. Learning to increase and decrease brain wave synchrony with neurofeedback provides a skill set which is crucial to attentional flexibility and well being. | |
Early studies on information processing in the visual system have shown that visual information is transmitted as a spatial, not a temporal, code. Information travels toward the cortex as waves of synchronous action potentials. The role of synchrony in transmission of various kinds of information will be described. The role of synchrony in coding information at the level of the nerve, and at higher levels of neural organization, is crucial for controlling attention. Learning to increase and decrease brain wave synchrony with neurofeedback provides a skill set which is crucial to attentional flexibility and well being.

A fundamental hypothesis is presented in this talk: Attention types and brain wave activity are reflected in each other. Attention is the means by which we determine aspects of awareness. Attention types are defined as those processes which control the proximity, scope, speed, and direction of awareness. Aspects of attentional behavior can be learned using neurofeedback. The use of certain combinations of attention types may serve as a vehicle or strategy for managing physiology as well and awareness. Attention style determines performance and rate of stress dissolution. Flexibility of attention is a major condition supporting heatlh and well being.

Diffuse and immersed styles of attention support the production of brain wave activity which is synchronous and global, and an awareness that is expanding and unifying. Conversely, narrow and objective attention supports the production of asynchronous brain activity, and an awareness that highlights separate and narrow discrimination. Our sense of self and subject and object are continually created and destroyed as our brain waves oscillate between synchrony and asynchrony. Certain electric field interference patterns are created at the brain regions where the waves associated with simple awareness and its contents abut. These interference patterns are hypothesized to serve as the mechanism underlying awareness, and awareness of awareness. Certain other patterns are mechanisms which dissolve awareness.

Awareness of space plays a pivotal role in various styles of attention. Resisting the experience of space (which includes resisting silence, timelessness, void or a sense of absence) leads to the accumulation of stress and tension, and can result in many symptoms of disfunction. Such resistence locks attention and brain waves into rigid patterns of separate and narrow discrimination. Open Focus exercises to improve attention flexibility will be presented along with a demonstration of instrumentation used for synchrony training.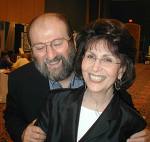 Author: Les Fehmi
Les Fehmi, Ph.D., Director, Princeton Biofeedback Centre, Princeton, New Jersey, 609-924-0782, www.openfocus.com, founding member of the Biofeedback Society of America (now AAPB). For over thirty years he has conducted research and practiced clinically in the area of attention and EEG biofeedback . He developed Open Focus(TM) training and specializes in multi-channel, phase-synchrony neurofeedback.
1) In Depth Presentation and Demonstration of How Coherence Training with Couples and Groups Impacts Attentional Flexibility
2) Flexibility Training: Synchrony or Not?
3) Managing Self and Managing Awareness
4) The Potential of the Synchronous Brain; Synchrony Training for Individual and Adults

MP3 (20 mins) $7.00
Currently Unavailable for Download