AT62 EEG Alpha-Theta Trainer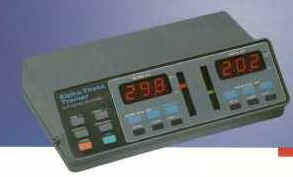 $1589.00 plus $35 shipping
Autogenic's Advanced Technology AT62 EEG Alpha-Theta Trainer is a simple, self-contained, portable EEG for use in your office -- or for your patient's use at home.
Its convenient SensorPhone EEG electrode/headphone set (included) makes electrode hook-up so FAST AND SIMPLE, your patients can do it themselves in seconds.
And, with no software to learn, you can use the AT62 EEG the day you receive it. Technology that WORKS FOR YOU.
Portable. Both battery and line-powered. Complete with all accessories, including a carrying case
Alpha-Theta Features
8-12 Hz alpha and 4-8 Hz theta.
100-400 Hz EMG filter.
EMG artifact indicator.
Superior Feedback
Audio: The Alpha-Theta Trainer uses comfortable audio headphones to provide quality audio feedback while blocking-out distracting background noises.
The Alpha-Theta Trainer has two audio feedback modes. In one, the pitch increases or decreases proportionally with the EEG signal. In the other, the audio tones turn on or off to indicate threshold crossing. Feedback can be provided continuously, above or below threshold.
Visual: The alpha and theta frequencies each have separate numerical and lightbar displays (autoranging from 0.1 to 99.9 ÁV).
You can select to display real-time EEG, time period averaged EEG feedback, or the PERCENTAGE OF TIME the EEG activity is in an alpha or theta state.
Advanced Feedback Features
The Alpha-Theta Trainer illuminates an LED and sounds a tone to indicate CROSSOVER (theta > alpha) has occurred.
The Last Value Attained (LVA) feature displays the maximum or minimum EEG value attained (as a target for patient motivation) while the lightbar provides real-time EEG feedback.
Statistical Capabilities
Simply by pressing a Statistics button, the Alpha-Theta Trainer provides both summary and intra-session statistics for the mean, max., min., SD, %SD, and the %Time > or < Threshold.
AT62 ALPHA-THETA EEG SPECIFICATIONS
The AT62 EEG is designed to meet/exceed the electrical and safety standards specified by UL 2601, IEC 601 and CSA 871. The default parameters are bolded.
Visual & Audio -- Per Frequency
Two Frequencies
Alpha only, Theta only, Both Alpha + Theta
Display Options
Numerical LED + Lightbar, Lightbar only, Numerical LED only, A/B Ratio
Numerical LED Displays & Range
Three red digits, 0.5" high; 0.1 - 99.9 microvolts
Numerical LED Resolution
0.10 microvolts
TPI (Time Period Integration) Settings
0.5, 1.0, 2.0, 4.0, 6.0, 10.0, 60.0 seconds
Numerical LED Read-Outs
EEG microvolt, Percentage of time within bandpass
LVA (Last Value Attained) Settings
Continuous, Maximum, Minimum
Lightbar Range
15 segments, x0.1 to x2.5-3.0 proportional scale
Tones
Piano(default for Alpha), Continuous (default for Theta), Oboe, Flute
Volume
Levels 0 to 7, 4 is the default
Provided
Continuously, Above or Below Threshold
Home-Use Software Lockout
Enabled, Disabled
Statistics -- Per Frequency
Statistics Acquired (Summary)
Min., Max., Mean, SD, %SD
Statistics Acquired (Intra-Stats)
Choice of Min., Max., Mean, SD, %SD
Sampling Capacity
60 minutes of data
Intra-Session Data Collection Rate & Data Display Rate
0.5 minutes, fixed; 2.5 seconds
Statistics Sampling Rate
4 Hz (every 0.25 seconds) of VRMS
Electrical -- Per Frequency
EEG Bandpass & Rolloff
8-12 Hz Alpha, 4-8 Hz Theta; 40 dB per octave
EMG Bandpass & Threshold Range
100-400 Hz; 0.0 to 99.9 microvolts
Common Mode Rejection & Differential Input Impedance
120 dB; > 1,000,000 megohms
Input Noise & Leakage Current
0.3 microvolts; In compliance with UL 2601 specifications
Audio Output
3.5 mm stereo earphone jack, (mono output)
Analog Output
Linear 0-5 volt DC signal, compatible with most computer interfaces
Line Power Input
120 volt, 60 HZ, 220 volt, 50/60 Hz
Battery Rating
10 to 12 hours use; 16 hour recharge maximum w/ built-in overcharge protection
Dimensions & Weight
2.5"H x 7.7"W x 5.3"D; 1 pound 11 ounces
STANDARD ACCESSORIES (Included)
Qty
Item
(1)
UL listed isolation adapter
(4)
Installed Ni-Cad rechargeable batteries
(1)
EEG electrode assembly
(1)
Audio feedback heads
(1)
Carrying case
(1)
Owners manual
-- Optional Accessories --
(1)
SensorPhones electrode assembly
(1)
EMG output jack
Warranty: 1 year parts and labor on instrument; 90 days on accessories, 3 year extended warranty available.
NOTE: No warranty or claim is made regarding the efficacy of products in clinical use, but only with regard to electronic specifications,
which specifications are subject to change without notice.
Prices and specifications subject to change without notice.
other products: A-620 EEG Audio/Video tapes of interest