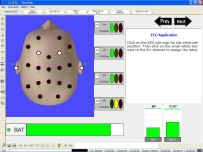 EEG Biofeedback /
Neurofeedback Central
Neurofeedback is a form of biofeedback. It's a training process which uses technology to provide you with more information about what your body is doing than your ordinary senses provide. This "feedback" helps you learn to use your mind to develop greater control over your body, or, in the case of neurofeedback, your brain.

Neurofeedback Central organizes all the pages on our site covering Neurofeedback, QEEG, The Winter Brain Neurofeedback Meeting (world's largest,) articles, info and abstracts, Neurofeedback Foundations and advanced QEEG and EEG biofeedback training tapes, neurofeedback instrumentation, neurofeedback FAQ and more.

Our best resources on this site include hundreds of free abstracts from past meetings we've run and hundreds of very affordable tapes of workshops and lectures. Spend a few hours with us here, or print out 50 or 100 pages of valuable free info. I've been working with neurofeedback since 1972, and I'm happy to share the resources I've developed with you. Feel free to give me a call to say hello, or to ask a brief question.

Rob Kall, M.Ed., BCIAC Senior Fellow, BCIAC EEGC webmaster

Meetings and Trainings Coming Up
Winter Brain Neurofeedback Meeting the biggest and best meeting on neurofeedback

Neurofeedback Foundations Course Register early and save

The premier meeting in the entire area of EEG biofeedback." Joel Lubar, Neurofeedback pioneer, Past President, AAPB

DVD N

eurofeedback Foundations Course

; The best Introduction to the field

Barry Sterman Brain Topometric Mapping for Neurofeedback Course
Getting Started with Neurofeedback
Information Resources on Neurofeedback; Free and for purchase
Free 96 Winter Brain Neurofeedback Meeting Abstracts one page for printing out whole proceedings
Computerized & Stand alone EEG Neuro/biofeedback systems

Exhibit Hall Video a tape demo-ing five different EEG biofeedback systems. Great for beginners or experienced pros looking to add another system.

Procomp Biograph

Infiniti

Our hottest selling Neurofeedback/conventional biofeedback system

run eight channels of physiology, including EEG, TMP, EMG, SCL, RESP, PPG, ECG, + $3690 on up

Brainmaster Windows dual channel EEG $

1599

includes brain mirror display, games. Open SW architecture,

Optional Add-on Animation and protocol Software available.

Two Hour video software tutorial available. This system is HOT! Price and performance are making it happen.

The C2 and C2 Mini start $1200 for two channels that give you a mix of two channels of EEG, EMG, Heart Rate, ECG, HRV, RSA or respiration. Get the upgraded, more powerful system with Thermal and GSR for a $400 saving, at $2499 Impedance Checking Built in
Waverider Dual channel Windows EEG $950 includes GSR also. ( this is the basic hardware and software platform that the Peak Achievement trainer (retailing for over $2500 is built on.)

Autogen A-620, Designed by Joel Lubar An excellent turnkey package for a neurofeedback practice. $3500
Pendant Wireless EEG BF Trainer with BioExplorer $1175
Single Abstracts from Winter Brain Conference
Program Evaluation of EEG Neurofeedback at New Visions School: from John Anderson. 65 students

received EEG neurofeedback services during the 1996-97 school year. Evaluated by TOVA and Conners' CPT.

Jaime Romano, M.D. Centro Neuro Psico Pedagogico One of Mexico's foremost neurophsyiology facilities, offering QEEG and neurofeedback, integrating neurology, psychology and education.

Thoughtform Interpretation Studio The event-resolution microscope for EEG/EP/ERP investigation! This new software tool is basically a high-resolution microscope for waves. It is used to discover patterns and amplify signals associated with meaningful events, states, and conditions of the mind and brain.
Free Webzine
Bio-Psy Webzine: Free Subscription

Subscribe Free

to BioPsy Webzine

The first Webzine covering mind/body sciences, biofeedback, & much more. (12 back issues)Back Issues Archive

BioPsy covers the fields of biofeedback, brain/mind/ body/heart/spirit education, health, assessment, therapies, peak/optimal performance, Positive States, emotions, holistic integral health, pain and stress management, sEMG, kinesiology, hypnosis, EMDR, behavioral medicine, mind technologies such as CES, light sound machines, subliminals-- and psychophysiology, psychology, phenomenology, research methodology and whatever else the recipients (who will ultimately become subscribers of a moderated listserve group) Within these fields, BioPsy will cover new developments, research, politics, product information, professional and industry news and tidbits, product and website reviews, conferences and other contents related to the above themes.