Existing research is pessimistic about the value of our currently dominant biomedical paradigm for treating mental illness. Long-term antipsychotic use appears to make people worse rather than better. While the research continues to accumulate, practice does not change. Doctors continue to practice as if psychosis comes from lack of medication. People recover without medications. How do we reconcile these two models?
::::::::
Paris Williams (2012) has marvelously summarized the existing research on recovery from psychosis in his book, Rethinking Madness: Towards a Paradigm Shift in our Understanding and Treatment of Psychosis. Many of us were not surprised when the research failed to support the currently dominant biomedical model of psychiatry. A 2015 panel at the American Psychiatric Association's annual meeting in Toronto confirmed that even more research is accumulating to question the benefits, if any, of the long-term use of anti-psychotic medication. Paris raises the question, why doesn't research change anything? In my day-to-day practice of psychiatry in a hospital setting, I continue to see the same story being enacted, the story that Paris questions (through the use of data). That story is considered absolute truth -- that psychosis comes from diseased brains, must be treated with drugs that block dopamine receptors (among others), and requires life-long treatment lest the person relapse. A recent Huffington Post article strongly supported that point of view, pointing to one research study showing that the longer the duration of untreated (with medication) psychosis, the worse the outcome. Studies must be read with caution -- even those that support our position. The Huffington Post author, a NAMI member (National Alliance for the Mentally Ill) and the mother of a child diagnosed with psychosis, didn't notice that the "untreated" patients were actually being exposed in an oscillating manner to high-dose antipsychotic medications, which they would take and then stop. This is the dominant pattern in the United States, and certainly not the case in the developing countries covered by the World Health Organizations' studies of schizophrenia, in which people's exposures to medications were either brief or non-existent. Other studies continue to accumulate to support these conclusions.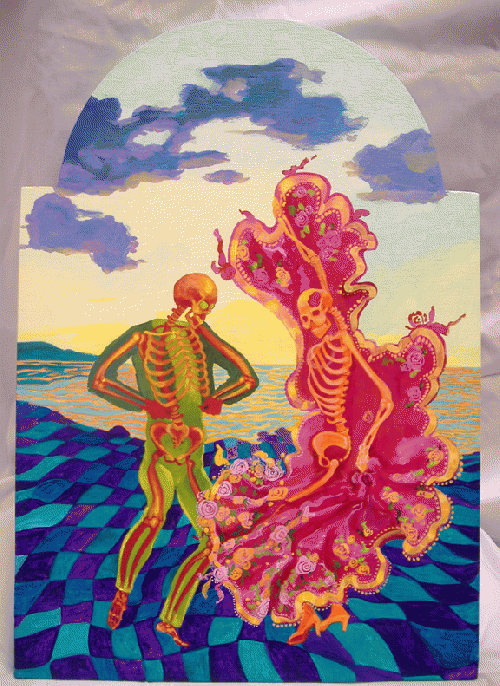 (
Image
by
San Merideth
)
Details
DMCA
So why do we keep doing what doesn't work? Recently my wife and I had a wonderful dinner with a long-time colleague of 30 years, Dr. John Dye, who is Chair of Mind-Body Medicine at the Naturopathic Medical School in Phoenix. He posed the same question to me. Why do we prescribe proton pump inhibitors for excess stomach acid when simple dietary changes usually suffice? The FDA has approved these drugs for short-term use (6 to 8 weeks), but people are kept on them for many years. They block the absorption of iron and other necessary minerals. Similarly, options exist for lowering cholesterol besides statins (drugs in the top 5 profit-makers in the world). We simply don't think of these alternatives. Statins can erode exercise tolerance and permanently damage muscles. When a friend was prescribed them, she stopped all exercise, which was probably worse for her than having somewhat elevated cholesterol. She simply didn't have the strength to continue to exercise. Do we take these options because they're simpler? I suspect we should peruse the sociological literature for answers to these questions.
Dr. Williams makes the point that antipsychotic drugs have been, since 2009, the most profitable drugs on the planet. Their sales exceed $15 billion dollars per year in the United States. Not only that, but the marketing model is sublime -- we force people to take them against their will. When that happens, we use the very expensive injectable versions. One month's supply of one of the newer antipsychotics (risperidone) had a co-pay (not the total cost) of $800. That's a powerful incentive for someone.
However, we doctors don't see this money. I came onto the scene early enough to be given a nice doctor bag by Eli Lilly. I don't think they ever gave me anything else besides pens. I used to attend on occasion reasonably lavish dinners at desirable restaurants sponsored by pharmaceutical companies to hear about their new drugs. I particularly enjoyed the food, but doubt I was ever swayed to prescribe anything based upon dinner. However, these contacts, including drug dinners, as we called them, have long gone the way of the dodo bird. The incentive is not direct. It consists in status and respectability. Drug company sponsorship of research can build careers in psychiatry. Doing drug research builds respectability and confers status. I have learned the hard way that psychotherapy research is tremendously less respectable than pharmaceutical research. Again, why is this so? Perhaps sociologists can tell us.
The trigger for this essay is the upcoming visit of Ron Coleman and Karen Taylor to Maine. They represent the Recovery Movement in Mental Health. As is often the case, Ron began as a patient, escaped the psychiatric system with the help of his friends, and started helping others to escape and recover in his native Scotland. Karen, a psychiatric nurse, joined him at some point, and together they have made a substantial impact upon people in such diverse places at the U.K., Italy, New Zealand, Australia, and the United States. The gist of their story is that people who get diagnosed as having psychosis can recover; they can get well. Of course, I agree with that. Throughout my life, I have worked with people who have had the psychosis label as they work to recover. Barbara Mainguy and I wrote a recent paper about over 50 of these people and how they fared (positively). The work is sometimes slow, sometimes exciting, requires patience and acceptance that people don't always make the choices we want them to make, but that perseverance will further, as the I Ching often says, and recovery will happen.
I believe wholeheartedly in what Ron and Karen are doing. We want to participate in starting a recovery house and community in Maine, but I can't see, in my wildest dreams, how this movement could ever enter mainstream psychiatry. For one, it's peer led. Mainstream psychiatry is required to be physician led. When I say required, I mean by the government -- Medicare and Medicaid. Aye, there's the rub. When we bill the government for services, then the government gets to decide -- rather, demands or requires, what shape those services will take. The government believes that if hospitals and clinics are to be reimbursed the maximal amount, a physician needs to be in charge of mental illness treatment. A physician must see every patient coming to treatment and must participate in writing the treatment plan. A physician must periodically review the treatment plan. In a hospital setting, when physicians and nurses are involved in the care of patients with psychosis diagnoses, medication is invariably part of that treatment plan. Indeed, nurses have scolded me on occasion when I do not prescribe drugs at every encounter, and one for each diagnosis. Psychotherapy can play a minor role, but the expert physician is in charge, and drugs are the primary treatment. This story is rampant across North America -- that experts who are highly educated in their field, licensed, and closely regulated, have the answers. If peers could do the work equally well, that would completely challenge that story; overthrow it, even.
However, the literature, as reviewed by Dr. Williams, points to peers being at least as effective as professionals, and probably more so, if only because they keep their fellow peers away from long-term psychiatric medications.
However, here's the rub. The patients I see in the hospital seem to be a different breed, for the most part, from the patients I see in my life outside the hospital. I haven't found a way to bridge that gap, though I wonder. Here's what I observe. People come to the hospital to be fixed, for the most part. Granted, in our society in Maine, there's virtually nowhere else to go, which is probably true for most of North America. We don't have non-medical environments where people can go to be surrounded by friends, family, and interested peers, where the crisis can abate, and where they can avoid being medicalized. What I observe is that mostly people are in crisis due to disturbances in their interpersonal relationships. Of course, the social determinants of health are also active. People can enter crisis states due to facing life and feeling shame, suddenly becoming homeless, jobless, without family (death or divorce), hungry, lonely, or tired. Shelters in North America, by and large, do what they can, but the environments are not conducive to healing except in some unusual circumstances. This has been described for Canadian aboriginal women who were homeless -- the shelter was a strongly negative experience, but connecting with other women at the shelter was a strongly positive experience. However, when we are in crisis or lack the basic necessities of life, the only place we have to go in most areas of North America is the hospital. Due to our "chronic brain disease" story, most of my colleagues assume that people are worse due to a medication deficiency, rather than a striking social event. A colleague at West Virginia University recognized this and avoided changing any medications for the first week of hospitalization. He found that people improved and were discharged without any medication alteration on his part, for the most part. They just needed a break from their lives.
However, in defense of my colleagues, I should add that most have never had the opportunity to see psychosis in any other light than the glaring, harshly acute illumination of the emergency room. The dominant story is one of people stopping their medication and then decompensating, though when I have interviewed many of these people, I have found that they decompensated before stopping their medication. This stoppage, however, breeds its own kind of psychotic delirium, for one can't actually just stop these drugs without dire consequences. The withdrawal produces all the symptoms the drugs purport to treat. It's easy to say that the symptoms one encounters are from a lack of medications, when they may actually be from the withdrawal from medications. Couple that with the self-medication that many of our emergency department clients are adding (amphetamines, bath salts, marijuana in unknown potencies and doses, hallucinogens, Ecstasy, benzodiazepines, opiates, to name a few) and the confusion escalates exponentially.
I've had the opportunity to spend time in peer-led facilities such as Diabasis in San Francisco. During my training, I received supervision from John Weir Perry, the medical supervisor there, and a well-known Jungian analyst and psychotherapist of psychosis. Diabasis was so much more calm than the emergency department in our hospital, and no one was on medications. However, the demand characteristics of the two environments are so different.
In the hospital, we have a situation in which people are not responsible for themselves or their actions (in the relative extreme) and we doctors are. We are responsible for preventing them from killing themselves, hurting anyone else, or generally engaging in bad behavior after discharge. We feel the tremendous anxiety that this brings and want to sedate the patients lest they do something harmful. For example, during my training, I learned that it took 28 days for an antipsychotic medication to actually work in its antipsychotic manner. Before that, it was mostly functioning as a high-level sedative. In those days, we kept people for several months and let the drugs take effect before we discharged them. We can't do that anymore. Insurance dictates that people should be well within 7 days. Insurance dictates were also the death of the peer-led facilities like Diabasis.
We feel the need to sedate people and control their behavior lest we be liable and culpable if they do something bad. Within this system, how could we grant them agency?
Once upon a time, I believed that we could transform the mental illness system in North America. I'm no longer sure. I have begun to wonder if we are not doomed to parallel systems--the underground railroad, as it were with slavery on the other hand. Recovery does not take place in a biomedical system. The goal is maintenance. Can it be any other way? Can people transform in the biomedical story about them? Or do they have to find their peers and withdraw from the system of mental illness? And who will pay the peers? Must they labor for love, forever? I certainly relate to that, for most of my work with people diagnosed with psychosis was uncompensated, for insurance would not pay. Psychotherapy and healing were outside the model.
Of the patients I see in the hospital, I estimate that it's less than 3% who leave the system and find alternatives like the recovery movement. Is that enough? How do we make it more? Given the economic nature of recovery (largely uncompensated) perhaps that's as many as can be handled. However, Ron and Karen, who are coming October 10th and 11th, to Coyote Institute in Orono, Maine, have ideas for how to make recovery economically viable. This is what I really want to hear, for I do not know how to accomplish this in the U.S. system, short of doing it as a funded research study (which rarely happens because the ideas lie so far outside the mainstream). Perhaps we need societies as in the 19th century in which we tithe time and money for the purpose of helping each other when need arises. Perhaps we should all become Quakers in the sense of the marvelous people who started lovely retreats for people who suffered emotionally throughout the 19th century, and who did so much good in helping people recover. This movement ended with the huge influx of World War I soldiers who were so traumatized that no mental health infrastructure pre-dating the War could handle them. Hence, the Quaker sanitariums were transformed to profitable warehouses for traumatized people, and the ideas that had worked disappeared.
We're looking forward to this dialogue with our colleagues from the U.K. Stay tuned to our website at http://www.coyoteinstitute.us, where we plan to start an internet conversation with Ron and Karen in the near future. Part of this dialogue concerns the question of whether conventional services in the U.S. can interface with a recovery model, or will it always be a question of parallel processes? Can the two models interact, or must they always remain separate? The conversations will be forthcoming".
Authors Website:
www.mehl-madrona.com
Authors Bio:
Lewis Mehl-Madrona
graduated from Stanford University School of Medicine and completed residencies in family medicine and in psychiatry at the University of Vermont. He is the author of Coyote Medicine, Coyote Healing, Coyote Wisdom, and Narrative Medicine.