1970's Advertising Sheet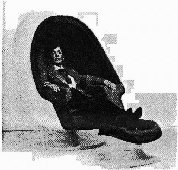 HOW TO INCREASE THE QUALITY OF YOUR PRACTICE WITH THE ALPHA CHAMBER
The Alpha Chamber is an attractive, sculptured shell enclosing a soft-cushioned contour chair. The Alpha Chamber functions as an environment within an environment. The Clients rest comfortably, with their feet upon the matching ottoman, the perfect center of dual channeled sound sources - relaxed, unencumbered, engrossed - detached but not divorced from the immediate environment, isolated but not in isolation. The recessed speaker system is scientifically placed to afford an intimate sound experience without bothersome earphones. The high quality sound is enhanced by the oval environment which intensifies the personal sensory exerience. The Alpha Chamber is on the leading edge of technology in the field of environmental therapeutic modules.
Health Professionals and their clients appreciate the rapid and effective results from time invested in treatment. The Alpha Chamber obtains these results and has been in clinical use for nearly a decade. It helps the busy professional achieve faster and more positive results when used in conjunction with standard therapy.
WHO USES THE ALPHA CHAMBER?
Thomas H Budzynski, Ph.D.
University of Colorado Medical Center
Behavioral Medidne Associates
Past President-Biofeedback Society of America
"We have used the SEE chair for over a year now in our clinic. I find that it greatly facilitates biofeedback, hypnosis and relaxation training, as it provides a safe, secure environment for the patients.
Most patients look forward to sessions in this pleasant, protective environment. I believe that it allows them to let go and relax quickly and efficiently."
Gary F. Schwa~ Ph.D. Professor of Psychologv and Psychiatry Yale University
Past President Biofeedback Society of America
Past President -Health Psycho1ogy Division of American Psychological Association
"This is quite simply, a remarkable product. Its potential for improving theories and applications in health promotion and education deserves to be taken seriously."
Charles F. Stroebel, MD., Ph.D. Institute for Advanced Studies in Behavioral Medicine, Harford, Conn. Professor of Psychiatry at the University of Connecticut Medical School.
Elizabeth L. Stroebel, MEd., MS.
Children/Adolescence Stress Center
Graduate Fellou', University of London
"Sensory Environment Chamber provides an almost ultimate environment for adults and children to learn stress control. The chamber creates a sense of well being for patients undergoing treatment for stress disorders. This is a healthy and revolutionary departure from traditional therapeutic approaches."
Denis E. Waitley, Ph.D. Chairman of Psychologv of the US. Olympic Sports Medicine Council, Behavior Scientist to the Apollo Moon Program Astronauts
"The Alpha Chamber offers both the sensory and audio environment necessary for maximum relaxation and receptivity to simulation programs that can be a viable alternative to pharmaceutical intervention and other therapies involved in stress and anxiety management, guided imagery training and accelerated learning."