You must mention this page and request these specials when you place your order.

Offers not valid after any orders you've placed which have been shipped.
We take trades too, so if you see something you're interested in, make an offer.
Barely used Procomp with SW and 2EEGs $2699
(with free 2 hour software instructional video) additional used sensors available.at 25% off.
10% discount on new Procomp with Biograph Biograph SW instruction tape $29 usually $99
Discount on Myotonik portable EMG. Usually $299, now $229. Limited supply. Units have LED light bar display, sound, multiple control functions and two thresholds (high and low).
Brainmaster dual channel EEG
BRAINMASTER 2E Neurofeedback Module System
Two channel device. Includes hardware, 1.8 software, documentation, cleaning gel, conductive paste, electrodes, training video and manual. 90 day parts & service warranty.
Retail $975.00 $949
Special on BRAINMASTER (AT-1-1.9A):
BRAINMASTER (AT-1-1.9A):, 2E Neurofeedback Module System
2 channel device. Includes hardware, 1.9A Software release w/128 MIDI sounds, coherence, documentation cleaning gel, conductive paste, electrodes, manual, training video; 15 month Parts & Labor Warranty and Affiliate Membership which also includes List Server membership and preferred pricing at no additional cost. (See 1.9A Software, Extended Warranty & Affiliated Membership) Each $1225.00
Retail $1225.00 discount $1199

Biofeedback Society of America Meeting Proceedings-- from mid seventies to early eighties These retail for $30 each. Buy three for $39. These are quite unique, with reports of biofeedback applications you would never dream of. They are great additions to your growing biofeedback library.
Stress Check cards: limited supply (with our old address)

reduced from $35/20 to $20 for 20 or from $110/100 to $79/100 (limited quantities)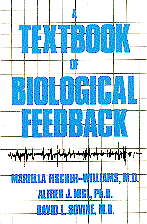 40% off Textbook of Biological Feedback $15
Free Biofeedback Card: (one per customer) Usually $5.00 plus our $6.00 minimum shipping charge. Now, just pay a reduced $3.50 shipping charge and get the card free. Add the .Bio-Q Relaxation Tape which tells you how to use the card. Get additional stress cards for $4 (for family, friends, employees, clients.) We usually charge $12.95 for the tape, $4.95 for the card, or $14.95 for the combination, plus $4.50 shipping.
Tova Test Software $50 off on our inventory. Limited supply.
Used Focus 1000 $1295
compatible unit, good for stress management training.) This will run great on a 486 notebook. sold
Standalone EEG unit $599
Free Lecture video of Hershel Toomim on HEG with purchase of a Biocomp system.

MuPsych relaxation /biofeedback background music tapes usually $10 each. Get 6 for $30 or 3 for $18 (we pick the titles)