POSITIVITY TRAINING

Awakening Mind, Body, Heart, Spirit & Performance to Optimal Potential -Building Emotional Intelligence Skills
Lectures, seminars, coaching, consulting To Bring Out The Best In People
Positivity traits
Negativity traits

empower & facilitate
energize
open and flexible
love, care & commit
embrace opportunity
appreciative, finds the good
plans & acts to improve
is warm & full hearted
enthusiastic & optimistic
challenged and winning
curious and intrigued
expects & creates success
cooperation & teamwork
pleasant, peaceful & kind
healing, wholistic, healthy
persistent, self starting
happy, hopeful, connected
altruistic, connected
honest, good character
creative, sense of humor
spontaneous, quick

weaken & hinder
sap & parasitize energy
narrow, rigid
fear, neglect & scorn
blind and avoiding
puts down, complains
reacts to fix or avoid
is cold & empty hearted
cynical & pessimistic
overwhelmed and losing
bored and apathetic
expects & sets up failure
isolation & dissension
angry, mean & hateful
hurting, frequently ill
quitter, dependent, stuck
depressed, cynical, aloof
self-centered, sociopathic
dishonest, dissipated,
bored, humorless
constricted, retarded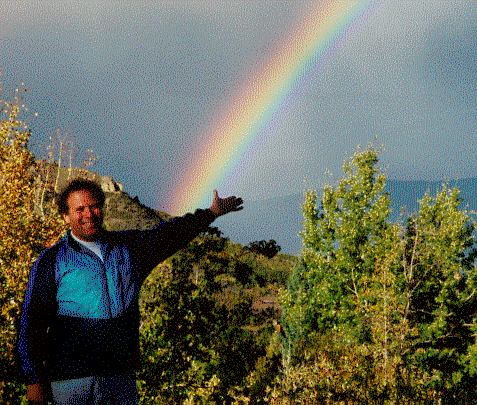 Rob at Aspen, September, '97. That's a natural rainbow!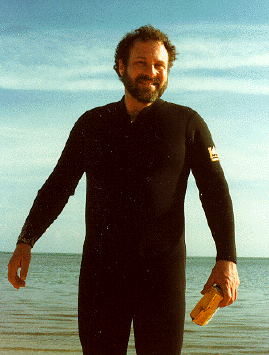 Rob in a wetsuit at Key West in 1996

Be positive! Get rid of the negativity! Get a more positive attitude! Don't be so negative. Advice to get positive is often given. Yet most people don't know specific steps to build and maintain a positive attitude, strong self esteem, optimism and skills for feeling good. Positive attitude books and seminars tend to be inspirational pep talks without action plans. Positivity training is a systematic program with specific steps to turn on & enhance the positivity traits listed below.
Who benefits from Positivity Training? Anybody: health care providers, patients, teachers, employees, (execs, sales, customer service, marketing)
I'm already positive and I feel great. Can Positivity training help me? Just as athletes and artists pick up new techniques faster, positive people quickly benefit. They add new Positivity skills and fine-tune their feeling-good responses to feel and perform better than before, and learn to bring out the best in people around them.
Positivity Training teaches... how to build, increase and make more effective use of inner strengths. It is used by over 1,000 trainers, health care providers, managers, sales and customer service people and educators worldwide
Positivity training says good feelings and positive experiences are the most important parts of our lives-- the basic building blocks of inner strength, self esteem, positive attitude, capacity for happiness, and the ability to see more opportunities for more positive experiences and to cope with problems. The goal is to increase skills in all aspects of positive experience.
Positivity training moves you towards the best you can feel and function. It builds strengths, rather than analyzing, and emphasizing elimination of negativity. Positivity training assumes many negatives will simply be replaced by positive behaviors.
Positivity Training Outline
Introduction:
-Positivity and The Positive Experience (PE) Response
-The Six Facets of the Anatomy of Positive Experience
1- Prepare Mind and Body for PEs & good feelings; be comfortable feeling and expressing strong positive emotions. Maintain healthy habits, honesty, and positivity traits & be prepared to make the most of PE opportunities.
2- Plan, schedule, research, anticipate PEs; not just vacations & weekends; every day. Study your PE patterns, inner & outer resources, and your environment to build a PE knowledge base so you can zoom in on PE possibilities. Schedule challenges at work and play.
3- Systematic Positive Attitude Building; Recognize, identify, initiate and embrace PE opportunities; Sharpen skills for recognizing PE opportunities and initiating them most effectively. Develop a positive attitude that expects to find PEs & seeks them out.
4- Optimal Experiencing; Make the most of the moment Learn to boost PE intensity, length, complexity, and content m
aking them more meaningful and memorable.
5- Store, Keep, Retrieve Good Memories; Store the PE (in your brain, on paper, photo, audio, video, computer.) Integrate it into your memory, self-image and relationship with the world. Do a post PE stretch.
6- Clone Your Best Moments: Transplant Winning Behaviors and Feelings; Recycle your PEs to new situations and areas of your life.
-Inhibitors of good feelings and positive experiences;
take the Positivity inhibitor test.
Dealing with & Helping Negative People
Tens of millions of Americans have problems with depression, anger, anxiety, cynicism, pessimism, or expressing or feeling positive emotions. Their negativity profoundly affects their performance, relationships, and the people around them. They get sick more often and ruin the morale of the family, group, class or office. Positivity can help turn them around and help the people near them to cope with them more effectively. You begin to notice the change as they start sharing good feelings. They go from growling to glowing. Stress, anxiety and anger begin to disappear. Give it a try confidence and outright enthusiasm replace negativity.
What about Laughter, Humor & Stress Management?
Positivity training includes elements of all of these plus behavioral and cognitive self talk approaches. But most important, it is a comprehensive systematic approach to increasing one's positive aspects rather than just a quick fix for getting rid of unwanted behaviors, It is not just a brief entertainment (though it is fun and lively.) A warning we're proud of; *-Positivity emphasizes the heart, honesty, integrity, altruism and virtue as essential elements in being and feeling the best one can. It is not recommended for groups who want to maintain a "cut-throat" attitude in sales or competition.
Some of the experiential exercises used in the lecturers and seminars
-Pumping smile iron workout and laugh choir
-Progressive Smile Activation -Positivity Inhibition Test
-Positive experience/success imagery
-Success MACRO CLONING;
-Positive experience lost memory retrieval
-Positive experience and pathological PE analysis
-Work related PE sharing and analysis
-Significant life event recall
-Personal strength and positive experience inventories
Lectures, Seminars, Keynotes, Consulting

Presentations are available from as long as a two day workshop (12-14 hours) or ongoing training an consultation, to keynote presentations, after dinner speeches, hourly consulting, etc. Fees are based on size of group, time, special training materials supplied and travel demands.

Non-profit groups (hospitals, prisons, churches, synagogues) and charitable organizations are offered reduced rates. Some pro-bono presentations are provided each year.

Groups wanting stress management covered in extra depth can optionally choose for all participants to receive their own biofeedback training materials and audio tapes.

Rob Kall, M.Ed.

211 N. Sycamore, Newtown, PA 18940, 215-504-1700 fax 215-860-5374,

E-Mail smile@FUTUREHEALTH.ORG




Rob Kall, M.ED.




Bio: speaker, consultant, therapist, inventor, entrepreneur, writer.

Rob presents lectures, seminars, workshops and luncheon speeches which touch people's hearts, and makes them laugh and cry. They leave inspired with new skills and ideas they can use immediately for seeing and making a better world.

Rob has presented on Positivity Training, Stress Management, optimal functioning and related themes at many national and state professional meetings such as the Amer. Acad. of Pain Management, Assoc. for the Advancement of Behavior Therapy, Assoc. for Applied Psychophysiology and Biofeedback, at the Canyon Ranch, America's premier health spa, at Fortune 500 companies such as Campbell's Soup, at elementary schools (to teachers and students as young as 1st grade,) alcohol and drug treatment facilities, churches, prisons, hospitals and small businesses. Rob has lectured internationally, as far away as Novosibirsk Siberia (Russia's silicon valley, top secret before perestroika.) He has over 25 years experience as a lecturer trainer, and trainer for the trainers, including psychologists, physicians, nurses, counselors, ministers, and other health care providers. They learn how to teach people to take control of their lives. Rob co-edited the book, Biofeedback; Theory & Practice and has co-authored and consulted on software used in thousands of corporate, military, health and university facilities worldwide.

Rob's writing has appeared in many national publications including OMNI, FAMILY HEALTH, READER'S DIGEST, SUCCESS, BEHAVIORAL MEDICINE, WRITER'S DIGEST, & AMERICAN CHIROPRACTOR. Media coverage of him and his work includes GOOD MORNING AMERICA, ABC MORNING NEWS, CABLE NETWORK NEWS, OMNI, DISCOVER, WOMEN'S WORLD, NEW YORK TIMES, AM PHILADELPHIA, EVENING MAGAZINE, PHILA. INQUIRER, Knight Ridder syndicated column, BBC, as well as articles published in Japanese, Russian, Spanish, Italian, Korean, German, French, Polish and Sanskrit.
Additional Topics For Presentations/Consulting, Coaching
- Performance enhancement with mind-body training

- Applying the Positive Experience Model to marketing

- The billion dollar business of pulling heart strings.

- Connecting with the heart in marketing and motivation

- Cultivate the Joy of Working: Team work, & Strong Morale

- PEs, Heart-warming and the Bottom Line

- Healing with positivity

- Behavioral Medicine, Pain Management

- Turn Chaos into opportunity; making peace with adversity

- Calm down & take control; stress regulation, imagery biofeedback, relaxation, meditation, zen walking

- Straighten out your self talk and behavior Cognitive and behavioral skills and techniques

- Positivity and the bottom line; work & business, sales

- Applying Positivity training to healing

- The Future of positive experience

- Creativity Boosting with heart and whole brain