For the next seven days, we will be doing Healing Camp in Italy. I plan to write a blog each day about what we are doing, so as to introduce the concept of Healing Camp and how it can work in hopes that others will try to replicate it.
Healing Camp is a social medicine experiment that was conceived in Saskatchewan in 2005. It arose from the idea that people could and should be healing for each other and that this kind of healing could and should procede seeking professional helpers. The inspiration for this came from our historical study of indigenous North American societies in which people looked within their extended families for healing before consulting those in the community who were recognized for the skills at "doctoring". Additionally, we were well aware of the medical literature on what prompts visits to family doctors, with a good 80% being related to complaints that physicians can do very little about. "Problems of living," we might call them, to paraphrase Astrid Lindgren's Carlson character. We thought that most visits to physicians could be prevented if people had extended families with some awareness of healing. This led to the Hocokah Concept. Hocokah is a Lakota word that translates both as "sacred circle" and as "altar". The two concepts are related in that elders are offered referenced by the type of altar they keep and that circles exist around elders of people who come to these elders for healing and spiritual guidance (hence, the come to the altar). The Hocokah concept is that people would do well to create circles of people who are interested in "being healing for each other". Since good elders are hard to find in urban North America for many people, we suggested that circles begin with the concept of leaderless leadership -- benign guidance and direction by the instigator of the circle using the rules of the Talking Circle, a popularization of traditional Plains cultures' ways of communicating about important matters. We have had some success in seeding Hocokah's around the world, but the question of leadership and hierarchies has derailed some. Apparently having a mutually accepted elder who offers the leadership is a tremendously stabilizing force for human groups.
Healing Camp arose from a similar motivation. In the past I had done intensive healing experiences for individuals in which I worked with them for multiple hours per day for multiple consecutive days. I found this a highly effective way to assist people in making rapid change and transformation, sometimes improving or recovering from a number of ailments. The mainstream culture separates afflictions into the physical and the mental, and Intensives (as I called them) worked for both, especially since I didn't separate the two in the same way.
The problem that arose was cost. For me to work for multiple days, people had to "buy me out" of my other income producing activities. In the idealized worlds of our indigenous past, the local healer(s) could work with people for days at a time and still be supported by the community. People would bring him or her food and help him or her maintain shelter. Needs were simple then. Banks and mortgages had not yet been invented. Today's economies are much more complicated. We needed a way for people to experience intensive healing that was affordable. That led me to the concept of group Intensives where a small group of people came together for a healing journey. The concept was similar to that of insurance. The cost dropped because several people shared the cost of "buying me out" of my other activities so that I could work intensively with them. However, it was still somewhat hierarchical in the sense that I was the leader and they were the people coming for help.
I must intersperse here that a "purist" would argue that I should just sacrifice and help the people who are in need regardless of income. I respect that idea, but to spend 6 to 8 hours per day with someone means that I would not be able to pay my bills, so it's not actually feasible. Therefore, we developed healing camp. Healing camp is totally by donation. We have a "suggested retail price", but you choose what you can pay, and that's fine. Healing Camp is open anyone. You can want to learn more about healing or you can want to be healed or both. Anyone can come.
I have had profound experiences in healing camp. I have been humbled by the incredible healing abilities of people whom I would never have previously guessed to be healing, particularly people who have earned the "chronic schizophrenia" label. I watched, in a healing camp we conducted in Mexico, a woman who had earned that label, do some of the most exquisite healing I have ever seen. Sadly, she never realized what incredible work she was doing.
So, this week, healing camp has come to Tuscany, Italy. We picked Tuscany because of our friends, Rivka and Greg, from Montreal, who own a farm in Tuscany. Paradoxically, they had a bad car accident, their plumbing broke, and we got moved to their friend Bridgit, a former U.K. midwife, who has an agriturismo olive oil farm (with working toilets). We have yet to see Rivka, but hope she will come one of these days.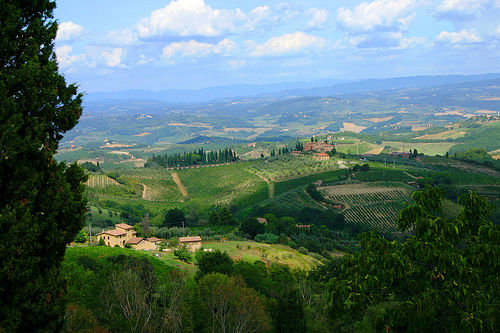 This is pretty much what it looks like here.
The concept of agriturismo is fantastic and is about young people coming to exotic places (Tuscany, for example) and working on organic farms in exchange for room and board. I wish I had done this when I was young. I wish my son would do it.
So here we are. I have explained the concept. Now what happens?
We begin with a talking circle in which each participant gets to speak for as long as he or she wants to speak. We pass a stick around the circle. Whoever controls the stick controls the conversation. When you have the stick, you may speak for as long as you wish. When you are done, you pass the stick to your left and that person speaks for as long as he or she wishes. The stick continues around the circle until everyone is done speaking. In this way, everyone can be heard.
I have learned some things about Tuscany! There are lots of flies! There are "noseeums", who bite you and you can't see "em. I have yet to see a mosquito, but I have bites up and down my legs and arms that won't quit. Apparently, Tuscany, like many other places, is bug infested. Bugs can make you miserable, but suffering is part of life. Oh, well.
We did a talking circle and everyone present spoke about what they wanted to accomplish, both in the way of learning about healing and in the way of being healing. I will begin with one of our male members, a man whose symptoms started 5 years previously, after the woman whom he believed was the love of his life, left him. He suffered from chronic low back and neck pain. He told us how he likes to be really busy and is crushed if he has time on his hands. He talked about how he used to love to go hiking and hiked the Grand Canyon before he got really sick. This was a very interesting trip. He did the trip with his dad who, paradoxically, was about to be diagnosed with end-stage emphysema, but who also knew how to push past obstacles and go the distance, no matter what.
We will call this man Adam. Adam had been ill for some years before this eventful hike, but everyone ignored him. Even he ignored himself. His father ignored Adam and himself. The theme of the family appeared to be to ignore illness until the last possible moment. His father had been diagnosed with pulmonary fibrosis and was ignoring that. He was supposed to be receiving intensive treatment, but instead, he chose to hike down the Grand Canyon. Admirable, I suppose. Or is it?
By the end of the hike, dad would be on a ventilator in an intensive care unit. The drama would meet its maximum. Two years ago, Adam had taken another vacation with his dad who had coughed the entire trip. He had gone to the local ER and had been diagnosed with pneumonia and had been out of work for one month. Still Adam, had not responded. He continued his life of staying busy and, when he wasn't busy, watching television. He watched action films, science fiction, and anything related to the Brothers Graimm. Some of his favorite movies and shows included "Behind Enemy Lines", "In Plain Sight", and "Fringe". Adam liked "behind Enemy Lines" because he identified with the character who had to endure physical and emotional adversity but was quite strong anyway. He identified with Mary, the Marshall, on "In Plain Sight", with blonde Agent Dunham on Fringe, who was cynical, tough, and disbelieving. Adam's motto was "ignore the obvious and soldier on." "It's there, ignore it, and move on." Above all, everything should be hidden from his dad, whom he perceived to be judgmental and controlling. Adam suffered from chronic low back and neck pain. Would this change during Healing Camp? Was there room for transformation? We would see by the end of the week.