Erik Peper, Ph.D. and Richard Harvey, Ph.D
San Francisco State University
"The total yearly costs of neck and upper extremity pain in the Netherlands (population of 16.4 million) due to decreased productivity, sick leave, chronic disability for work and medical costs were recently estimated at 2.1 billion euros (Blatter et al, 2006)."
----Maaike A. Huysmans (2008)
People, especially young adults, are spending increasingly more and more time connected to their computer (Subrahmanyam, Kraut, Greenfield & Gross, 2000). At school or home they send emails, chat and surf the net, and sit behind the computer eight hours a day at work. Even when going on vacation, they stay connected to the internet through their "Blackberry" or the Wi-Fi connections at hotels and coffee shops. Employees are often on call 24/7 (twenty four hours a day, seven days a week) 365 days a year. The combination of intensive computer use and work demands has resulted in an increase (epidemic) of illness (Kalia, 2002). For example, more than 30% of employees who work at the computer experience neck and back pain; hand and arm pain, tingling and numbness; and exhaustion ( Chauhan, 2003) . The European Agency for Safety and Health at Work (2004) has reported that more than a third of European workers complained of back-ache. The largest increase in back-ache are seen among computing professionals and technicians. More than 25% of European experience work-related neck-shoulder pain and 15% experience work-related arm pain (De Kraker and Blatter, 2005). This report suggests that the complaints are most prevalent among people who spent more time on the computer and work continuously without breaks. Beside professionals, college students (average age 25 years old) also report significant discomfort while working at the computer during the periods of high stress (e.g. the later part of the semester when papers and exams are due) as shown in figure 1 (Peper & Gibney, 1999).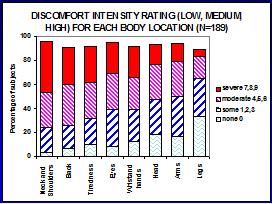 Fig 1. Distribution of discomfort for different body areas. Categories high, medium, low are derived from the responses on the self-rating discomfort scale (0=none to 9=extreme).
In Japan, "Karoshi", death from overwork, accounted for more than 5,000 suicides in 2006 (Hida, 2008). Furthermore, Japan had the highest proportion of people working more than 50 hours per week, with 28.1 % as compared to less than 10% of employees working more than 50 hours per week in most EU countries (Hida, 2008). Another alarming statistic described by Hida (2008) is that the ratio of employee use of paid vacations dropped to 47 percent in 2004 from 61 percent in 1980. This paper suggests that overwork without opportunity for regeneration or repair places people at significant risk for experiencing technostress (Burke, 2008).
Physiological factors that contribute to technostress
Technostress contributes to increasing discomfort and illness at the worksite, especially for those who work at the computer, and can be labeled as "stress immobility syndrome" (Peper & Weijman, 2003; Scaer, 2001). This syndrome occurs when someone works for many hours while stressed, stationary and functionally immobilized with little awareness that this contributes to illness. This paper offers a solution for transforming "technostress' into "technohealth' with the broad goal of reducing illness and improving health and productivity. For example, the most common intervention begins with ergonomic changes so that the person may work in less physically stressful positions. In the case of ergonomics approaches, the correct arrangement for performing the necessary work may include adjusting or changing the chair, keyboard, desk, monitor, as well as light, sound, and all other environmental factors. Even the arrangement of mouse is critical as the mouse use affects arm and shoulder muscle tension. For example, Harvey and Peper (1997) showed that when the pointing device (mouse or trackpad) is located centrally instead of next to the computer keyboard the upper trapezius and anterior deltoid electromyography activity is significantly reduced. Nevertheless, even with the best ergonomic position, illness may still occur, as described in the following vignette (Peper & Gibney, 2007, p. 27).
"Two years after his first ergonomic assessment Mark was still suffering. His employer had followed the recommendations of the ergonomist, purchasing a new chair and keyboard, lowering the monitor, and installing an adjustable workstation with a slant table. Yet, with all these changes, Mark continued to complain of severe and chronic neck pain, tingling down his arms, and aching in his forearm. In fact, his discomfort had increased."
Mark's story is, unfortunately, a very common one. Why, after spending so much money and making the ergonomic corrections, would Mark as well as thousands of other workers still suffer from computer-related disorders? The answer is that technohealth is more than optimizing computer workstation ergonomics. Computer-related injuries tend to occur when employees are captured by their work, engrossed, fixated by the demands of their tasks, and are unaware of, or ignore, physical discomfort, pain or other hurts. For example, in a study by Peper, et al, (2003) almost all employees studied thought that their muscles were relaxed when they were sitting correctly at the computer. However, the actual physiological data showed a different picture. Even while pausing with hands resting on the wrist rest, they did not totally relax their arms and shoulders as shown in Figure 2.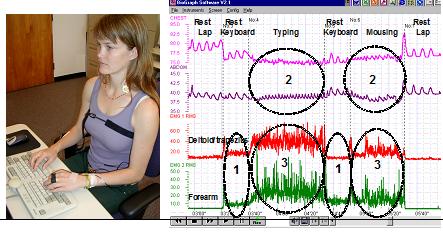 Figure 2 is a representative recording of a person working at the computer. Note the following: 1) forearm and shoulder (deltoid/trapezius) muscle tension increased as the person rests her hands on the keyboard without typing; 2) respiration rate increased during typing and mousing; 3) shoulder muscle tension increased during typing and mousing; and, 4) there were no rest periods in the shoulder muscles as long as the fingers are either resting, typing, or mousing.
Employees working at the computer tend to be unaware of holding chronic, unnecessary muscle tension. Peper et al, (2003) found that 95% of the participants automatically tensed (raised) their shoulders as well as maintained low-level of tension in